The Syncrometer® Science Laboratory Manual
7 Five out of Five Star
Reviews
on Amazon.
Total of 7 Reviews Received Dec 2011.

Publication Date: December 12, 2000


This manual contains instructions on how to make and use this device, used by Dr. Hulda Clark for her scientific discoveries. It contains 161 experiments for you to duplicate and expand upon. You can detect entities in your body (mercury, benzene, OPT – cancer), identify which organs contain a particular entity (mercury in the kidney, amalgam in your teeth), and/or detect entities in products (lead in water; asbestos in sugar, etc.).
The Syncrometer® Science Laboratory Manual 2



Publication Date: December 12, 2011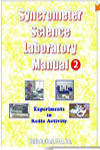 This manual continues with 60 more experiments for the Syncrometer®. They are on radioactivity and were the basis for Dr. Clark's latest book, The Cure And Prevention Of All Cancers. It also includes a Testers Flow Sheet to aid testers in what to search for and how to obtain the best results from their testing.
[kkratings]