Ada Garcia D.D.S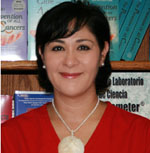 I graduated from the University of Tijuana in Mexico 1994. As soon as graduated I knew that my path would not be the traditional dentist career but the holistic, natural approach to health combined with dental practice. I started working with alternative practitioners, mainly working with cancer and chronically diseased patients using alternative methods. At that time we focused on metal and cavitation removal to help improve the health of our patients. After a few years of practice in Tijuana the opportunity of working with Dr. Hulda Clark presented itself when she contacted me and asked me to help her treat patients according to her protocol. The few years that I spent with Dr. Hulda Clark helped to consolidate my view and beliefs of how to restore health in those difficult situations of chronic disease and cancer.
I continued practicing other alternative methods including taking part in a research of a protocol that used natural Chinese herbs for enhancing immune system power. I continued opening my own cancer clinic that combined very low doses of chemotherapy and radiation with alternative methods like: Diet, chelation, detox protocols, amygdala (apricot seed) therapy, colonic irrigation and others.
I believe that a wholistic approach is mandatory for successful healing and the dental cleaning I do, is an important part in the whole process. I follow Dr Clark's radioactive teeth diagnosis and removal protocol assisted by Syncrometer® testing done by Mrs. Carmen Myers who was Dr. Clark's chief Syncrometer tester. We have recently made a significant improvement in cavitation diagnosis by using a new technology of dental CAT scan that gives us a 3 dimensional view and cross section capability of the mouth. This will help to detect any hidden cavitations that were impossible to find using the traditional panoramic view.
I believe that the process of healing is maximized when the patient can stay away from the stressful "normal" environment so he can focus on the healing process alone. For this purpose my clinic is built as a complex that also includes accommodations for the patients in a relaxed environment, far from the stress of hotels with unsafe water, taxi driving, unsafe restaurant eating etc. Here they can find a safe haven where they know that the water, food and environment are clean and safe according to Dr. Clark's protocol.
Please contact me at doctorsmile3@yahoo.com or 011526646806418 (from the USA)