Gloria Ertel, N.T.S.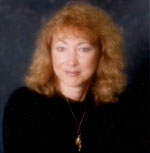 Gloria Ertel, Natural Therapeutic Specialist, D. Acupuncture, Reikii Master, Polarity and Massage Therapist, Yoga Teacher, Syncrometer Tester, Healers Who Share – Quantum Formulas Therapist.
Company Name: Healing Vibrations
I began my career as an Alternative Health Practitioner in 1992, and my education never ends. As we are all learning more about the needs of the body and the incredible array of nutrients and antioxidants available, I think it is important for a therapist to keep up to date with scientific findings. Through the many years of education and experience in the healing field I am able to advise and recommend herbs, supplements and other natural methods that I have found effective to support and help heal body organ dis-ease.
I enjoy working with people to help them achieve better health, both physically and mentally, utilizing whatever modality I feel appropriate to the situation and I never ask a client to do or take something that I have not experienced or taken myself.
In the year 2000 I began working with Hulda Clark protocols and found them to be very effective and with a little direction, fairly easy to follow. I began Syncrometer® testing at this time and together with testing and using the Clark protocols I have been able to help a great many people very successfully.
After learning how to Syncrometer® test and testing some of the supplements that I had been offering clients, I realized that a great many products sold in health food stores are polluted with chemicals and toxins. I then started to use solely Dr. Clark products.
In the year 2006, Health in Sync, owned by my daughter Angelica Mark acquired the Canadian division of Self Health Resource Centre from Dr. Clark's brother Leo Regehr, and together we ran a healing clinic in Toronto where clients would come in, get tested and given the appropriate protocol to follow.
I now work with people worldwide by means of saliva testing and consultation either in person or by phone or email gloria@healthinsync.com.
Since no two people are alike, an individual assessment is the first step to facilitate a healing "plan". Through a saliva sample (which contains DNA), and a Syncrometer®, I am able to assess how to best help remedy a health condition.
I believe that detoxification is the main key to wellness and I therefore help guide my clients toward their goals of better health by means of organ cleansing.