The Bioradiation Spectrum
Everything emits a characteristic range of frequencies (bandwidth). In general, the more primitive the organism, the lower its bandwidth. Advanced animals have higher frequencies and the range is wider.
The human range is from 1520 KHz to 9460 KHz. Pathogens (molds, viruses, bacteria, worms, mites) range from 77 KHz to 900 KHz. Fortunately for us we can work on zapping pathogens in the lower ranges without affecting humans in the upper range.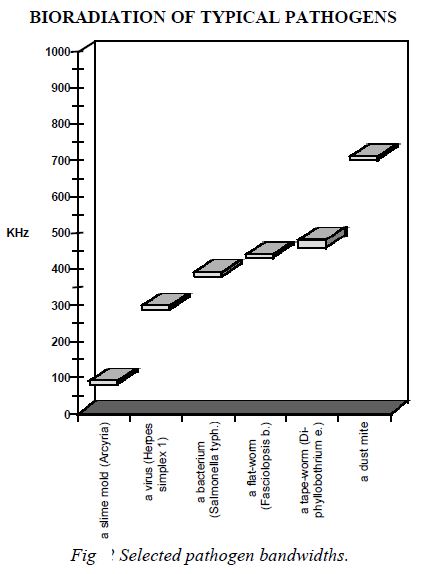 Applying an alternating electrical voltage within an organism's bandwidth injures it. Small organisms with narrow bandwidths are extinguished quite readily (three minutes at five volts).
Positively offset frequencies can kill the entire range of small organisms (viruses, bacteria, parasites) in just seven minutes.